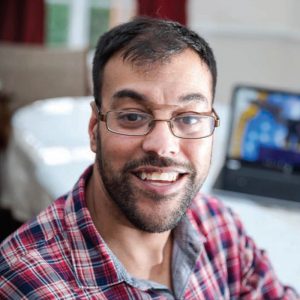 TECHNOLOGY
ARUN KAPOOR IS A MASTER OF DETAIL.
As an IT Asset Manager with the Defense Logistics Agency at Fort Belvoir, Va., he's responsible for reviewing contracts and documents related to hardware, software, and other items needed by the U.S. military.
He also communicates regularly with high-ranking military officials about their requirements and specifications for items they request.
His job requires him to excel in the three areas identified as learning disabilities for him when he was seven years old: reading, writing, and comprehension.
"What led my parents to seek diagnosis was that I was failing exams as well as not picking up the material very easily," says Kapoor, who lives in Falls Church, Va. His parents made sure that their son was enrolled in smaller classes, especially when he reached high school. When it came time for college, Kapoor says, his family decided that Beacon College's small size and unique curriculum would help their son succeed.
So Kapoor left the security of his home in Virginia and traveled to Leesburg. When he graduated in 2008, it was with a degree in computer information systems — and a whole new sense of self.
"Beacon gave me confidence," Kapoor says. "I was just a different person."
In addition to academics, he says, Beacon gave him tools to improve his reading comprehension, "like making notes on the side [of text] and writing important words."
His Beacon professors also taught Kapoor "how to be more vocal, how to give proper presentations, and how to speak clearly and concisely."
One of the Beacon accomplishments he's most proud of was taking an active role in student life. Becoming a Student Government Association president is a moment he still savors.
"Beacon College helped me become a leader and also take the initiative," Kapoor says.
Within two months of graduating, Kapoor was working for a company that had a contract with the Social Security Administration to help disabled individuals find jobs. At the same time, Kapoor attended a program on federal contracting.
After four years with the Defense Logistics Agency, Kapoor feels confident about his job knowledge, but leaves room down the line for his entrepreneurial spirit to express itself.
"I don't know what the future holds," he says. "I have lots of ideas and think about opening my own business."
In the meantime, Kapoor is being given more responsibilities in his current job, including helping to write an SOP, or Standard Operating Procedure, for a piece of software.
"It feels great," he says, "because I know what to do, I've learned on the job. I have the confidence to write SOPs."