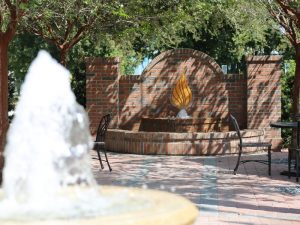 Beacon College stands proudly today because a focused and forward-thinking group of parents recognized that students who learn differently often possess extraordinary abilities and life-changing ambitions — gifts that could be realized only through a competitive undergraduate education.
Washington, D.C., Attorneys Patricia and Peter Latham headed a parent group that was the driving force behind the establishment of the college.
Beacon opened its doors on September 26, 1989, welcoming 35 students to its small campus in Leesburg, Fla. The campus consisted of two buildings on Main Street, with one providing dining and classroom spaces and the other serving as administration offices. Leased student housing existed within walking distance of the main campus.
Beacon initially offered one degree: a bachelor of arts in human services.
Over time, the community and its leadership shepherded the development of this unique institution. An institution that profoundly has changed the attitudes and expectations of the American higher-education system, redefined the ethos of collegiate preparation for students who learn differently, emboldened parents and young people whose previously managed expectations had afforded them little hope, and transformed students and set them on a course of worthy work and independence.
From the outset, Beacon weaved itself into the community patchwork of Leesburg and Central Florida, working with businesses to establish internships that would give students real life experiences.
The cornerstone of Beacon's mission was — and remains — its singular focus on the unique learning profiles of its students. Pupils receive multi-modal instruction in classes with no more than 15 students. All students are assigned academic mentors called learning specialists to guide and support their mastery of a rigorous collegiate curriculum. Professional life coaches foster holistic student development in areas such as interpersonal relations and self-advocacy.
Educational support services include the latest technologies such as voice-activated dictation software for students with writing disabilities, taped text and lectures, audiovisual aids, and test modifications.
By 2003, Beacon achieved full accreditation by the Commission on Colleges of the Southern Association of Colleges and Schools. After this milestone, the college added new degree programs in 2005 in computer information systems, which also included a digital media and web design track. Later, the college offered additional majors in liberal studies (now humanities), business management, and psychology. In 2013, studio arts became the school's sixth major, while in 2016, Beacon became only the second U.S. college or university to offer anthrozoology as an undergraduate major.
Shifting attention to the school's infrastructure needs prompted by enrollment growth, the college in 2013 constructed Beacon Hall, the main administration building and campus focal point. Beacon Hall also included much-needed classroom space. That same year, the college renovated what is now the Mason Art Center and the Academic Mall housing Beacon's library, classrooms, and faculty offices.
In 2014, the college converted a 1913 train depot into its fitness center. Soon after, the college purchased and renovated the former Social Security Office to serve as a Student Center, and in 2016, added the COMPASS Center — formerly an American Legion post — that now houses Beacon's Writing Center and many of its student support services, including counseling.
Currently, the college is home to students from 34 states and nine countries. Beacon encompasses 22 acres and 19 buildings, including four student residences that house more than 90 percent of students who live on campus.
Beacon College boldly has declared in seven planks our vision of what defines the abundant life for our students. Chief among these is the pursuit of "worthy work to sustain an independent lifestyle in an interdependent world." This ambition for our students pervades all that we do. Why is Beacon different? The answer is in its people and in the culture that has been fashioned and surrounds us.