UNIQUE PROGRAMS THAT MAKE A DIFFERENCE
Navigator PREP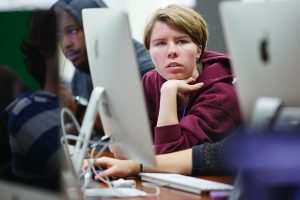 Designed for young men and women who struggle with learning disabilities, ADHD and other learning differences Navigator PREP is the country's first virtual transition program for neurodiverse students. Aimed at students entering Beacon College or other universities within the next six to twelve months, Navigator PREP uses a virtual model and a skill-based curriculum to develop students' executive functioning, social and emotional regulation skills. There is also a focus on providing support to parents, as Navigator PREP actively addresses the separation process and the normative experiences that families go through during this adjustment.
As students and parents develop a 'tool box' of skill-based strategies, their Transition Counselor will help frontload essential information regarding campus life, academics, and support services to ensure there is a proactive action plan that enhances post-secondary independence.
Learn more about Navigator PREP.
Learning Essentials On-Line
Originally developed as a transition to college course for high school students with learning disabilities entering Beacon College the course has been adapted to an on-line platform. The course is designed to help young men and women discover how their choices directly impact their opportunities for greater success in college and life.
Learn more about Learning Essentials On-line.
Summer For Success
The Summer for Success program aims to give college-bound high school students who learn differently the skills, confidence and preparation to successfully transition from high school. We do so by helping them better understand their learning differences, recognize early stumbling blocks and know what they need to succeed in their first year of college. Our courses are structured to meaningfully prepare students for college to be more effective and confident learners. Most importantly, rising juniors/rising seniors get to experience what it's like to live — and learn — on a college campus
Learn more about Summer for Success.
Diverse Abilities Internship Program
Through a collaboration between Beacon College and Johnson & Johnson, the Diverse Abilities Internship Program is a proposed structured internship model (Summer 2020) aimed at helping students with learning disabilities transition, sustain, and succeed in a competitive work environment.  
The Diverse Abilities Internship Program is delivered in two distinct ways: first, individual and group virtual transition counseling, and the second, professional development in the broad field of neurodiversity training for Johnson & Johnson management.   The first component will provide prospective interns with ongoing external services through Beacon College's Transition Center to ensure that students are receiving additive support in the areas of executive functioning, social integration, and emotional regulation skills. Group-based webinars will be delivered to provide ongoing instruction to increase intern self-awareness and self-advocacy skills. 
Simultaneously, Beacon College Johnson & Johnson will collaborate to design and deliver a five-tier model of training to increase knowledge and practices in the field of supervising diverse employees.