A 14-Week Online Course For Students Who Learn Differently
Building the soft skills needed for learning success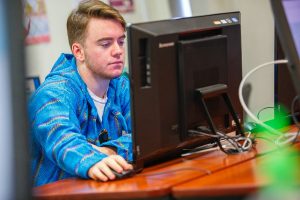 Learning Essentials is a time-tested and proven course required of every entering student at Beacon College, America's top-ranked, four-year college for students who learn differently.
At the request of parents and educators, Beacon is now offering this 14-week course online to college-bound high school juniors and seniors.
Learning Essentials Online focuses on helping students understand and apply the critical skills needed for success in learning — and in life. "Soft skills" require awareness and effort to build. They are key to acting responsibly, communicating effectively, being part of a team, developing relationships, and much more.
Highlights
Flexible: Can be self-paced based on student needs
Convenient: Home or classroom use
Dynamic: Videos, animation, and printable companion book
Measurable: Self-assessment at the start and end of course
Course Objectives
Through the use of self-assessments, case studies, guided journaling and an individual research project, Learning Essentials Online will help a student discover how daily actions can impact opportunities for greater success in learning and in life.
Topics Will Include:
Accepting personal responsibility
Identifying individual learning styles and effective learning strategies
Discovering self-motivation
Mastering self-management
Employing interdependence skills (Know when to ask for help)
Gaining self-awareness
Developing emotional intelligence
Building self-confidence
What Students Say
"I am taking what I learned and changing my behavior. I am putting more effort into my work and not avoiding homework."
"I learned how important it is to keep commitments and keep a growth mindset."
"I am applying the advice and guidelines to my own life. I am putting more effort into my own work and being more aware of what I do in my daily life."
"It helped me to believe in myself, take more responsibility and choose schoolwork over play time."
"I loved how it tells you everything you need to know to get ready for college."
For More Information
Learning Essentials Online can be taken by individual students or used by schools or districts.
To learn more about Beacon College's Learning Essentials, contact:
Office of Admissions
Beacon College
105 E. Main Street
Leesburg, Florida 34748
Toll-Free: 855-220-5376
Email: admissions@BeaconCollege.edu