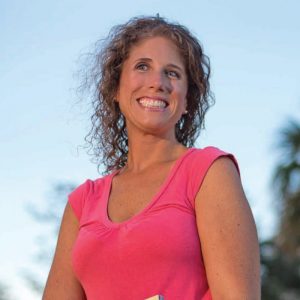 EDUCATION
MELISSA ROBINSON KNEW FROM THE TIME SHE WAS IN HIGH SCHOOL THAT SHE WANTED TO BE A SPECIAL EDUCATION TEACHER.
Today the 2008 Beacon College graduate is doing exactly that at Samuel S. Gaines Academy K-8, a public school in Fort Pierce, Fla.
"The work I'm doing now is dealing with children with varying exceptionalities," Robinson says. Her students' disabilities range from behavioral problems, attention deficit disorder (ADD) and learning disabilities to autism and Down Syndrome.
Robinson says the best part of her job is "seeing the smiles on their faces" and watching the progress they make as a result of her efforts.
Diagnosed with ADD herself when she was five, Robinson had the good fortune to attend a private school designed for students with learning disabilities for her K-12 years.
A college education had always been her goal, so Robinson started out at a nearby community college after graduating from high school. A year in, Robinson realized that it wasn't working for her.
"I already knew about Beacon and knew some people going there," she says, "so I decided to give it a try."
What she found at Beacon was "small class sizes and one-on-one teacher interaction," Robinson says. The supportive professors ("they know your name; you're not just a face") and staff, study guides, and helpful hints on taking notes "made it possible for me to be successful."
With her bachelor's degree in liberal studies — and minor in education — in hand, Robinson immediately enrolled in grad school at one of Florida's universities.
"I had some struggles academically," she recalls. "I'd get some C's here and there, and you can't get C's in grad school. I'd have to retake the course and was put on academic probation a couple times because of that."
Although she used the resources available at the university's disability resource center, she says, "I didn't have the support I had at Beacon because there were so many students" who also needed help.
Robinson was determined, though, and relied on tutors and friends as well as the school's resources to help her. In 2012 she graduated with a master's in exceptional student education with an emphasis in disability services.
Now she's researching doctoral programs in special education.
"My ultimate goal is to run my own school for children with special needs," she says. "I just have to find the money to do it."
After teaching emotionally disturbed children in Central Florida and in Gulf Breeze, Fla., Robinson moved to Samuel S. Gaines Academy.
The challenges in special education are great, but so are the rewards, she says.
"I feel like I need to pay it forward," Robinson says, "to make sure my students have the best education they can, like I did. I don't want my students to miss anything because they have special needs."