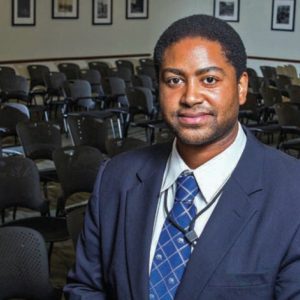 HUMAN SERVICES
DAVIAN ISOM IS ONE BUSY GUY. THE 2008 GRADUATE OF BEACON COLLEGE JUST RETURNED FROM A YEAR AS A PEACE CORPS VOLUNTEER IN NAMIBIA.
He's working as an immigration officer in Baltimore while preparing to take the state exam for licensure as a graduate social worker. And he's engaged to be married.
Yet this driven, ambitious young man says he had to fight to get the educational help he needed.
Diagnosed with dyscalculia and dysgraphia — learning problems related to math and written expression — Isom was unable to get the accommodations he needed in high school. Instead, he says, he was sent to schools for troubled kids — "delinquents" is the way he describes them.
"I was on the verge of slipping through the cracks," the Washington, D.C., native recalls of his teenage years.
After pleading with the school board, his family was referred to a private school that specialized in students who learn differently. Isom began to thrive in the highly structured environment. During his time at the school, Beacon College representatives visited to describe the programs offered at the college's Leesburg, Fla., campus.
Isom was immediately interested and started classes at Beacon in August 2004. He already knew he wanted to be "some form of social worker," so he majored in human services with a minor in psychology.
Beacon's supportive environment suited Isom from day one. "Teachers actually knew you by name," he says. And the small classes provided an intimate study setting that encouraged give-and-take.
Eager to try his hand at social work, Isom secured an internship through Beacon at Lifestream Behavioral Center in Leesburg. His position as an assistant case manager evolved into a part-time paid position while he was still in college.
"I began assisting court-ordered youth in substance-abuse treatment and counseling," Isom recalls.
After graduating summa cum laude from Beacon in 2008, Isom returned to Washington, D.C., and worked for a variety of nonprofit and for-profit agencies. He taught basic life skills, offered career counseling to adults with developmental disabilities, and helped kids transition from juvenile detention facilities into residential treatment programs.
In 2013, Isom also completed a masters in social work at Howard University.
Once he passes the state exam for his graduate social worker license, Isom will spend two years, under the supervision of a clinical psychologist or clinical social worker, counseling individuals with a range of issues. When he completes that step, Isom can take the exam to become a licensed clinical social worker.
Meanwhile, his position as an immigration services officer is rewarding because it allows him to see people from all walks of life go through the process of becoming U.S. citizens. Once they pass the exam and swear fealty to the United States, Isom says, "it's a great feeling for the individuals granted citizenship as well as the officer conducting the interview."
Noting that Beacon College sparked a strong desire to help others, Isom says that his current job and his future as a social worker fulfill that desire.
"Interacting with students from all across the U.S. and other countries," he says, "allowed me to understand that, at some point, you're going to have to pay it forward and fight for people."