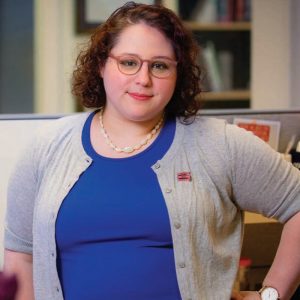 TECHNOLOGY
HANNAH WALK ALWAYS ENJOYED WRITING. AND COMPUTERS. AND WEB DESIGN.
But she couldn't envision a career that would combine her interests — until she became a technical writer for Yardi, a global property management software company.
"Technical writing is kind of a career no one really thinks about," Walk says. "I did just kind of fall into it" — and she's glad she did.
"I like that we're very driven to serve our clients and very innovative," says Walk, who works in the company's Atlanta office.
The 2013 Beacon College graduate also likes the company's atmosphere, which reminds her of her college days.
"It's very collegial and friendly," she says. "Most of my clients are Canadian; I work with quality assurance in India; programmers in Atlanta. Even though we're all very separate and in different time zones, we get on the phone every week."
Those conversations, she says, are work-related but always include recognition and compliments on jobs well done. "We support each other in our accomplishments on a regular basis," she says. "That was important to me at Beacon — that I got a lot of support and encouragement — and it's important to me professionally."
Walk arrived at Beacon after "very frustrating" years of dealing with undiagnosed attention-deficit/ hyperactivity disorder (ADHD).
During her freshman year of high school, she was diagnosed and did so well academically that she was admitted to Emory University. But she didn't fare well there because "I was having issues accepting that I needed help," she recalls. "I wasn't prepared to reach out."
At Beacon, she was surrounded by support and learned to handle her ADHD. "Beacon gave me a lot of tools," she says, "not just through the learning specialists but also through my classes. The professors helped me build confidence."
In addition, she says, "Beacon gave me a lot of opportunities for leadership that other colleges offered but might not have been available to me. I was president of the Art Club, vice president of the Student Government Association, and was in the first class of peer mentors at Beacon."
Those leadership positions counted when she applied for jobs to do while attending grad school at Portfolio Center in Atlanta.
"The qualifications I had from Beacon helped me get the jobs I had," she says – specifically her bachelor's degree in computer information systems, with a web and digital media track.
The college "is well regarded, and that makes a big difference to employers," she says.
It was a job at a software company that led to Walk's being hired by Yardi, she says.
Long-term, Walk hopes to move into a management role, "taking ownership of the product," but right now she's happy knowing that what she does matters.
"I write instruction manuals, client training information, online classes and videos and user manuals," she says "When you do these kinds of tech jobs, it's easy to lose sight of what the work means, but I keep that front of mind.
It motivates me knowing that I'm serving my clients and helping them, and that ultimately I'm helping people who are struggling to find housing."